Since the end of 2020, the prices of polymers – and especially EVA-copolymers – has been following a consistent upward direction. While comparing the price development of polyolefin elastomers (POE) and EVA-copolymers, one notes a rather stable price level for POEs since April 2021, whereas EVA has been rising to new all-time highs. Therefore, we at Innospec expect current and long-term price advantages for POE-based HFFR-Compounds that can provide a suitable alternative for many polymeric cable compounds. As a showcase example, we have explored their use in CPR-compliant (EU Construction Products Regulation) HFFR (Halogen Free Flame Retardant) sheathing compounds, which typically contain 20% or more of EVA copolymer.
For our development of newly HFFR-compounds we used a standard formulation with a 28% vinyl acetate content EVA-copolymer (MFI = 3) as the base polymer and an LLDPE (MFI = 3.5) as a property improver. Besides the additives, the standard flame-retardant system contained a mixture of precipitated ATH and natural milled MDH (See Table 1, Formulation EVA).
In the study, the EVA-copolymer was replaced by POE and different VISCOSPEED products. The test formulations included the new development VISCOSPEED HP (high polarity), resulting in better properties during fire tests (Table 2, Formulation POE 2) and VISCOSPEED HP-X (developmental), allowing for the use of simple uncoated natural milled MDH (Table 2, Formulation POE 3). The previously-mentioned replacement yielded a minimum 16% decrease in cost and an improvement in mechanical properties and flowability (Table 2, Formulation POE 1).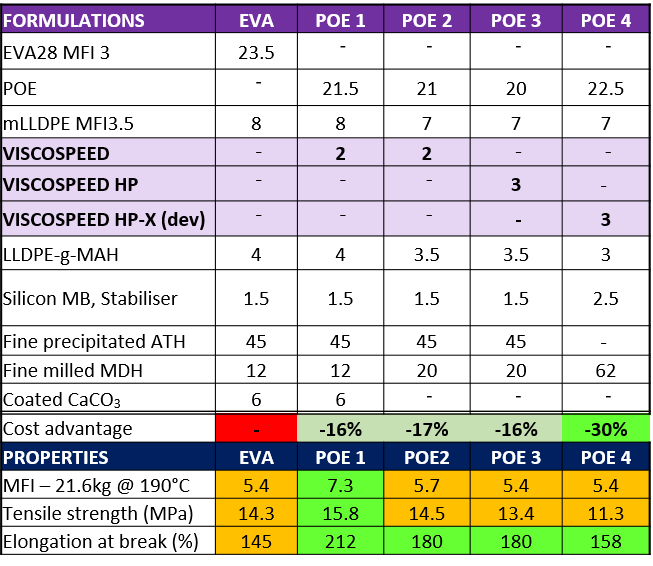 To fully assess cost optimisation potential, a complete replacement of price-increasing precipitated ATH with natural MDH was included to yield a 30 % decrease in the total HFFR-compound cost. As has been reported in many scientific papers and patents, the full replacement of precipitated ATH with natural MDH is only possible with a POE-based polymeric matrix. Polarity and low molecular weight, in synergy with maleated coupling agents, is the reason for the efficiency of VISCOSPEED as an active ingredient at the POE/fillers interface.
CPR-complaint cables need to fulfil required flame-retardant measures through fire tests. As the industry standard, EVA-based compounds work well in vertical fire tests and they also yielded the highest rate in this study. Nonetheless, when using the VISCOSPEED products the big issue of burning droplets can be eliminated while using the POE-polymer as the base component (Table 2, Formulation POE 1-3).
Further optimising the standard formulation and increasing the filler content, possible due to the VISCOSPEED dosage, helped increase the internal burning rate, preparing the POE formulation for CPR-compliance (Table 2, Formulation POE 2).

In summary, it can be seen that, with the help of the VISCOSPEED product line, a POE-based formulation can be fine-tuned to eliminate the presence of burning droplets and to allow the flame retardant filler content to be raised to a higher level. This can make the final formulation suitable for CPR-compliance. The exchange of EVA for POE allowed for a strong increase in elongation at break (Table 1, Formulation POE 2) and decreased the total compound cost by up to 30 % (Table 1, Formulation POE 3). In sight of the ongoing crisis in EVA copolymer availability, this approach can be considered as a timely next step in the evolution of CPR compliant cables.
Innospec Leuna is driving the developmental process forward to be able to provide further and deeper insights on the application of VISCOSPEED in HFFR-Compounds and cable compounds in general. Currently, we are running promising trials on crack-resistant HFFR-cables. So watch out our news-feed for new input.